Now certified ISO 14001:2015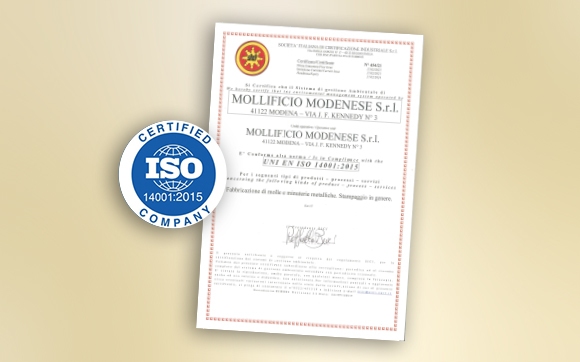 Mollificio Modenese is now certified ISO 14001:2005 for environmental management system.
Mollificio Modenese has acquired the prestigious UNI EN ISO 14001:2015 environmental certification
The spring manufacturer Mollificio Modenese has recently renewed its UNI EN ISO 9001:2015 certification, which attests to the implementation of a customer-oriented quality management system to continuously improve its production methods.
And that's not all: after an in-depth analysis and review of work processes and their environmental impact, the company has also integrated the prestigious UNI EN ISO 14001:2015 standard, as a testament of its "green" commitment to issues such as sustainable development and circular economy.
As the world keeps moving forward, themes like absolute quality and environmental protection are becoming increasingly important for the industry. Against this backdrop, international certifications are essential for competing on the global market.